Please be advised: Due to an increase in demand, our lead times on N-95 Particulate Respirators and hand sanitizers are very high. Please call or Livechat with us prior to placing an order for these type items.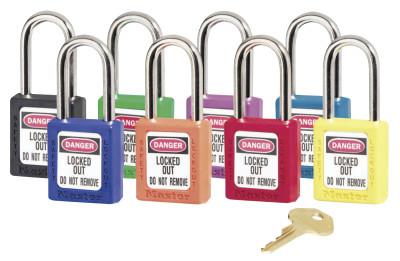 `1-2 week lead time
Manufacturer Master Lock
Description
The Master Lock No. 410RED Zenex Thermoplastic Safety Padlock features a 1-1/2in (38mm) wide plastic red body and a 3in (76mm) tall, 1/4in (6mm) diameter metal shackle. Designed exclusively for Lockout/Tagout applications, the durable, lightweight, non-conductive lock body is easy to carry and padlock features high security, reserved-for-safety cylinder with key retaining, to ensure padlock is not left unlocked.
Questions? Call Us Today!
1-855-211-7830